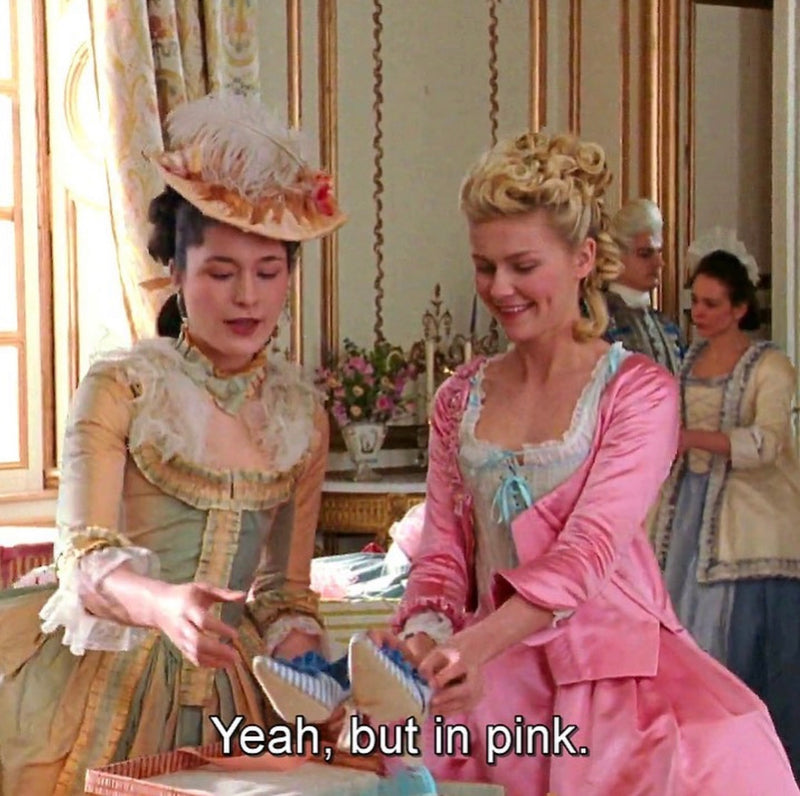 Written by Eunoia
Image from unkown
Movie Marie Antoinette by Sofia Coppola
Paris in itself is a work of art, every visitor another drop of color in its timeless canvas. 
It's a bucket list destination for millions of people and with the new Netflix show Emily in Paris, starring Lily Collins, everyone's checking how soon they can see the city in person. This is the best Paris travel guide for you if you're looking to experience both the Paris on screen and the Paris that only true locals see.
Paris Travel Tips
Even with an excellent Paris travel guide, a holiday in Paris needs proper planning since it is so rich in sites to see. 
Pandemic notwithstanding, Paris is open year-round, with different factors to consider per season. A visit when it's warm will have flora in full bloom while also drawing in huge crowds. Visiting when it's cold welcomes fewer visitors but requires more prior planning. You might also want to time your visit with one of the city's famous annual events!
As echoed by any European travel guide, Paris trips will need your essentials (passport, visa, travel insurance, etc. which are best kept in RFID blocking sleeves). You will also need to dress the part well. Blending in is key for avoiding tourist scams. 
Additionally, learn the language! Even if it's just greetings and location terms, it's still an important gesture to locals that shows you are here to explore their culture, not just for Instagram clout.
You'll also need a Type E plug for your electronics and, if you plan on visiting many museums, it's best to purchase a Paris Museum Pass for easy access to 50 museums and monuments.
To get around Paris, do it the true Parisian way by using the metro, renting a bicycle, or walking! To use their public transportation, it's best to grab a Navigo Decouverte, aka a Parisian metro card. Luckily, with sites usually so close together, strolling on foot is the more scenic and budget-friendly way!
Emily's Trip Around Paris
Regardless of what you might think of Emily in Paris as a show, it undoubtedly features a dazzling side of Paris. One line from the show best describes what the atmosphere of the city can do to you: "You're clearly under the influence of this city. You're high on Paris."
Here's a Paris travel guide based on what you saw in Emily in Paris. 
Much of the show was filmed along the 5th Arrondissement in the Latin Quarter, near the prestigious Sorbonne University. 
Emily lived in a loft overlooking the Place de l'Estrade. The sight of it makes for a pretty picture but it actually used to be the site for some gruesome public punishments. 
Les Deux Compères, Gabriel's restaurant, exists in real life as Terra Nerra. It's highly rated and serves European cuisine. Even without the dreamy Gabriel cooking it up, it's sure to be a scrumptious meal. Nearby is the Jardin de Luxembourg, which is where Emily jogs every morning. 
In the scene where she and her boyfriend split up, we see the Panthéon looming behind her. Modeled after its twin structure in Rome, this is a heartbreakingly ;) beautiful place for a change in relationship status. 
On her way to work, Emily traipses through the Place de Valois in the 1st Arrondissement. This picturesque square just steps away from the Louvre and is a stone's throw from Jardin Du Palais Royale, where she meets her first Parisian friend, Mindy!
In the show, we never see Emily visit the Eiffel Tower but it's featured in many scenic shots. In the tower's most prominent cameo, Emily admires it from the balcony of Le Café De L'Homme Trocadéro, during her first marketing event.
Le Grand Véfour is the Michelin-starred restaurant Emily tries to book a last-minute table at. This restaurant is rich in both good food and history, standing firm since 1784 and serving famous figures like Napoleon, Victor Hugo, and Voltaire.
As with anything filmed in Paris, the Pont Alexandre III Bridge makes an appearance. When it was Emily's turn to walk this bridge, it was to shoot a sexy (or sexist) commercial for Savoir's luxury fragrance client. This bridge leads to the Champs-Élysées, a classic Parisian street now sadly overrun with touristy stores.
When Emily called on her inner Audrey Hepburn, she was at the Palais Garnier for a night of ballet, among other things. Audrey Hepburn herself posed on the steps of this opera house 60 years ago, looking magnificent in one of her most iconic looks.
Emily also attends a party in the Musée des Arts Forain. While we only see carnivalesque pillars in the show, this is a funfair museum with several amusement park attractions.
It's worth noting that many of the places in Emily in Paris are sites any travel guide to the city would include. These are common tourist destinations, but there's so much more to Paris, especially from a local's perspective. But first, let's talk about places to stay...
Your Home In Paris
For your stay in Paris,
Hôtel Ritz Paris
In the Ritz Paris, expect the royal treatment during your stay, with access to Paris's finest, such as the one of a kind Chanel facial. Simply having breakfast there will make for an irreplaceable restaurant experience. If you prefer the night, the Hemingway Bar is a fantastic evening hangout. 
Hôtel Costes
Hotel Costes is where the biggest names in fashion stay during Fashion Week, their biggest event. If you're unable to book a room, dining here is still a fine treat and is one way to experience Paris like the Kardashians, since this is one of their common haunts. 
Hôtel Plaza Athénée
If you're looking to stay somewhere more obscure, the Hotel Plaza Athénée is the place to go. It has stood tall for over a hundred years, with a classic Parisian design and a perfect view of the Eiffel Tower. One suite was also featured in Emily in Paris as a movie star's room!
Your Turn Around Paris
Walking the path that Emily in Paris took is a great way to get to know the city but this Netflix show was, sadly, unable to shed a light on some of the city's best parts. Luckily, we're here to help you. 
Central Paris
Montmarte
Entry fee: free except for certain areas and museums
If you're in Paris looking for a moving picture of Parisian art, Montmartre is your best bet. This is a hill littered with cobbled streets where you can visit the Montmartre Museum, the Montmartre Cemetery (which isn't as depressing as it sounds), the Museum of Romance, and even a gallery dedicated to Salvadore Dali's work. If you dare, you could also walk up 222 steps to the Sacré-Cœur for amazing architecture and a breathtaking look at Paris that makes the uphill climb worth it. 
Le Bon Marché 
If shopping is your favorite pastime, Le Bon Marché is for you. This shopping mall first opened in 1982 and has since been filled with goods for every man, woman, and child. Just walking through it is an experience in itself. It stands as a witness to more than we could ever imagine and, to get a true feel of Paris, shopping like a Parisian is a must. 
Musée Rodin
Entry fee (without Paris Museum Pass): €1 for the sculpture garden, €12 for adults.
Steps away from the Eiffel Tower, you'll find an 18th-century mansion teeming with flora and 400 magnificent sculptures littering its grounds, all made by Auguste Rodin. This is the Rodin Museum and if you're unsure who this man is, you might recognize him from his work on The Thinker, The Gates Of Hell, and for his busts of Victor Hugo and Vita Sackville-West. 
Musée D'Orsay
Entry fee (without Paris Museum Pass): Free for children under 18, €13 – €16 for adults
The Musée D'Orsay is a wonderful museum housing artwork created from 1848–1914. One could argue that the first work of art in this museum is its Beaux-Arts facade. You can find it on the banks of the Seine and near the Pont Des Arts, also known as the former love lock bridge. This is an underestimated museum that all art lovers should start paying attention to.
Jardin des Tuileries
Entry fee: Free 
The Tuileries Garden originally stood in front of the Tuileries Palace that burned down in 1871. It's now known as a classic French garden with Claude Monet himself modeling his ideal garden after it with a view of the Eiffel Tower and is a short walk to the Musée D'Orsay and the Louvre. This was once a private getaway for nobility but is now a public paradise. 
Insider tip: use this garden's side entrance for shorter lines!
Shakespeare and Company
Other than classic museums and parks, a trip to one of the most well-known bookstores in the world is a must. Shakespeare and Company sits on the banks of the Seine, a good walk away from Notre Dame. Since 1920, this independent bookstore has remained a bookworm paradise as a sacred space created for the love of stories trapped in printed pages. If reading isn't for you, they also have a quaint cafe worth checking out. 
Le Plongeoir Paris chez Hermès
Also known as the Hermès cafe, Le PLongenoir is a gem located in the middle of the Hermès store along Saint-Germain des Prés, in a building that was once an art-deco swimming pool. The cafe itself boasts a spread of delicious pastries and fine tea from around the world, perfect for sitting back and catching your breath in the middle of a busy day around Paris. 
Angelina Paris
Angelina Paris is known as one of the best French patisseries in the city. Every day, they prepare hordes of fine pastries to engage the palette. Not only do they excel in sweets, but they can also serve hefty Parisian meals for dine-in patrons. It's an Instagram paradise that's sure to make everyone's mouths water.
Ferdi
Unlike many Paris restaurants, Ferdi is known best for its juicy cheeseburgers. They specialize in comfort-style European cuisine, where they take something simple and elevate it. It's a humble place and, if you're planning on dining here, it's best to make your reservations in advance just in case they're fully booked. Ferdi is only open during 
Outskirts of Paris
While the sites mentioned here are within Paris, they're farther than the others and will likely require you to use some form of public transportation to get there.
Fondation Louis Vuitton 
Entry fee: €5 for children 18 years old and below, €10–€16 for adults, €32 for family package
The Fondation Louis Vuitton is a newer Parisian museum. Designed by architectural genius Frank Gehry, this structure makes use of glass in never-before-seen ways. This museum opened in October 2014 and features contemporary art collections with a variety of art themes. While the Louvre, Musée Rodin, Musée D'Orsay, and similar museums house classics, Fondation Louis Vuitton showcases fresh works of art. Even if contemporary art isn't your cup of tea, its stunning terraces views alone are worth a visit. 
Bois De Boulogne 
Entry fee: Free entrance
To the right of the Seine, the Bois De Boulogne steals the hearts of French nationals and tourists with its 2,100 acres of uninterrupted greenery. Not only is it huge, but it has also made a mark in history as the former forest hunting grounds of noblemen. It has 17 miles of walking paths that you can explore on foot or atop a rented bike. If you plan your visit well, you might even be able to watch open theater performances!
Crazy Horse Paris
Entry fee: €87 – €170 varying per package
Can you really get the full taste of Paris if you don't spend the night at the cabaret?
Spend one of your Paris evenings watching a show at Crazy Horse Paris! Located underground, this provocative burlesque show not only gives you a blatant look at the sensual side of Paris, but it also helps you understand how the French celebrate femininity. Watch elaborate performances by world-class dancers in flashy yet sophisticated outfits. If anything else, these will make for a night to remember.
Day Trips Out Of Paris
A trip to Paris also warrants a trip outside city limits! France has more than just one beautiful city, some of which are less than an hour away!
Château de Versailles
Entry fee: €0–€55 per person, €90 for duos (rates vary per area)
Anyone and everyone who's heard of Paris has undoubtedly also heard of the Château de Versailles.
This once might've been the most extravagant palace in Europe, home to affluent kings and queens. Today, the exclusivity is gone but the beauty remains. 
Traveling here requires prior planning, especially since it's typically done as a day trip. We recommend coinciding your visit with their annual summer ball, which gives you a rare glimpse at what could've gone on in the infamous parties these palace walls once held. 
Giverny, France
Entry fee: Varies per site visited
Although Claude Monet called the Tuileries Garden his ideal garden, his constant inspiration was Giverny, which promises beautiful views everywhere you turn.
Traveling by train out of Paris to visit this idyllic town is a fun way to travel authentically while also avoiding the attention typically garnered by loud tourist buses. You could also make a pitstop in Vernon, which Monet visited often, for a fun adventure. 
These are popular destinations during the warm season since the Foundation Claude Monet is closed from November to March.
No matter when you go or what you plan to do, Paris is here for you to conquer. When the time comes for you to visit the City of Lights, this travel and leisure Paris guide is here to help you be part of this living masterpiece.